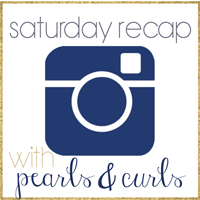 It's time to catch everyone up on my insta-shenanigans with Sara over at Pearls and Curls! Click on the button to check out her page. She's awesome. I know you'll love her!
Not too many this time!
The Walking Dead date!
Baby Shower gift I made for a co-worker!
New bracelet!
Kimber girl!
Sushi date in Jacksonville!
How was your insta-week??