Linking up with
Ashley
and
Neely
for Sunday Social, again! This week it's all about 5's!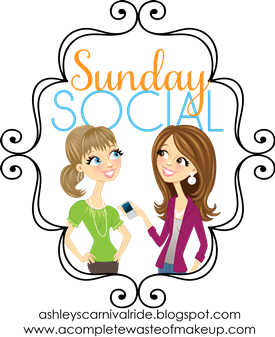 I'm linking up pretty late so please forgive me! Let's get started!
5 Songs You'll Listen to the Rest of Your Life:
Starting off with a bang here. This is such a hard list to come up with. I'll do my best. Thank goodness I'll never have to actually choose 5 songs to listen to forever!
Wagon Wheel - Old Crow Medicine Show. Seriously like one of my favorite songs of all time.
My Maria - Brooks and Dunn. RIP Brooks and Dunn. I wish you could have stayed together!
Baby Got Back - Sir Mix-a-Lot. Yes I'm serious. I know it's ridiculous.
Ice Ice Baby - Vanilla Ice. There are so many memories for this song, I can't NOT listen to it forever.
Semi-Charmed Life - Third Eye Blind. I realize what this song is about. I love it anyways. :)
5 Things on Your Bucket List:
Start a little family. Probably on most girls' bucket lists. Boring, I know.
Go to the Philippines. That's where my mom's from. Who wouldn't want to go back to the mother land?
Go on like a 2 month road trip around America. Stopping at all of the landmarks. How awesome would that be?
Go to all of the pro ballparks. Especially all of the National League ones.
Go to all of the Margaritavilles. Not even kidding.
5 Celebs You'd Love to Hang Out with for a Day:
Blake Shelton/Miranda Lambert - They count as one. Deal with it.
Matthew Gray Gubler. Just to stare. Hellloooooo Dr. Reid!
Kris Medlen. I would just really like to hang out with him. No particular reason. Besides him being awesome.
Paula Deen. Every Southern girl's dream.
Mila Kunis. I feel like we would be BFFs. We just haven't met yet.
5 Things You Always Carry in Your Purse:
iPhone.
Wallet
Meds (UGH)
Keys
Checkbook
5 Books on Your Reading List:
Confession time: I don't really read too terribly much so I don't really have a reading list per-say. Whenever a good book comes out that I think I will enjoy, I will try to pick it up and read it. Other than that it's just funny memoirs (Chelsea Handler, Tucker Max, etc.). I DO want to read all of the Hunger Game books before the next movie though.
Share the Last 5 Pictures on Your Phone:
We went to the gun range and decided to take a stroll down the Clay Shooting trail.
Hubs was taking a nap last night and Mav decided that he wanted to share the couch. Hubs woke up and said his legs were numb. He had no idea.
My sweet baby girl. She's so purdy.
I made that breakfast casserole I was talking about last week. There may or may not be a recipe post coming soon. :)
Getting ready to go to the gun range. We were cleaning our guns and Maverick decided that he wanted to learn with me.