First I would like to apologized for how crappy of a blogger I've been this week. This week has been nothing short of crazy for me. I promise to do better. :)
But, I've finally got a break so I'm linking up with the Fantastic Sara Elizabeth from Pearls and Curls for Saturday Instagram recap! Not too many pictures this week, obviously, since it's been ridiculous! I've got to step my game up!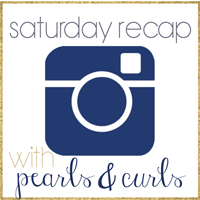 And here we go!
Girl Scout Cookies. Savannah Smiles have taken over as my new favorite!!
Getting ready for the gun range. Hubs was teaching me how to clean my new gun!
Kimber. There's always going to be a picture of her. :)
New SmallCakes opened up in town! IT. IS. SO. GOOD! Not good for my figure though! (We've been twice)
I FINALLY got to wear my pink Sperrys! Thank goodness the rain stopped!
Went to the gun range when it was FREEZING out. We could only stand to be out there for 30 minutes!
Watch this week for a recipe post (Breakfast Casserole) and another go round of the Liebster. I'm starting to feel super duper loved! Let's hope for a less-hectic week than last!
I hope all of you have a FAN-FREAKING-TASTIC weekend! Holla!